Colourful Furniture Ideas & The Perfect Decor
Add style to your home with our range of colourful furniture, from statement colourful wood sideboards to bright occasional chairs. Time & Tide's collection of colourful furniture is the perfect way to express your inner creativity and personality through your décor.
Colour can have an immense impact on your mood and the overall atmosphere of your home, choose furniture in calming cool tones of blue and green to create a serene home environment, or opt for a bright pop of yellow, orange, or pink to energise your living space!
Here at Time & Tide, we have a stunning selection of bright wooden sideboards, from distressed yellow wood and metal sideboards, to painted blue sideboards that will create a stunning focal point in your living space or hallway. Shop our full collection of statement wood and metal sideboards here.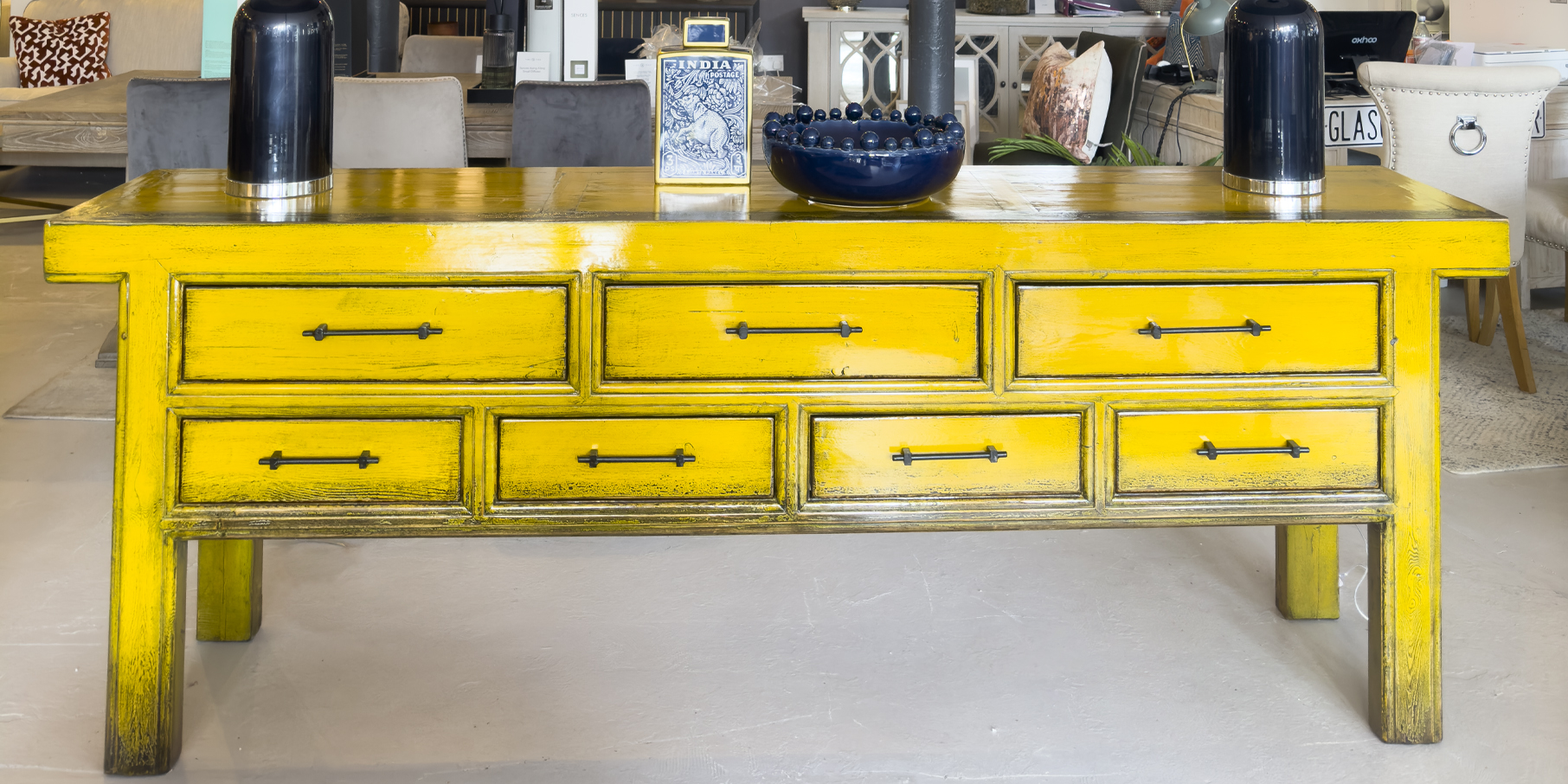 Finding Your Perfect Colourful Sideboard
Our statement sideboards are the perfect centrepiece for your home and choosing the right one for your space is essential!
Our Deep Teal Blue Wood 3 Door Sideboard creates a focal point in any room in your home. Crafted from high quality wood, this painted blue sideboard features an eye-catching geometric pattern and is the perfect centrepiece for your living space or hallway. This luxury sideboard would add style to any space, display your favourite colourful accessories atop your sideboard to create an eye-catching statement, or top with a pair of decorative lamps to complement the deep blue tones.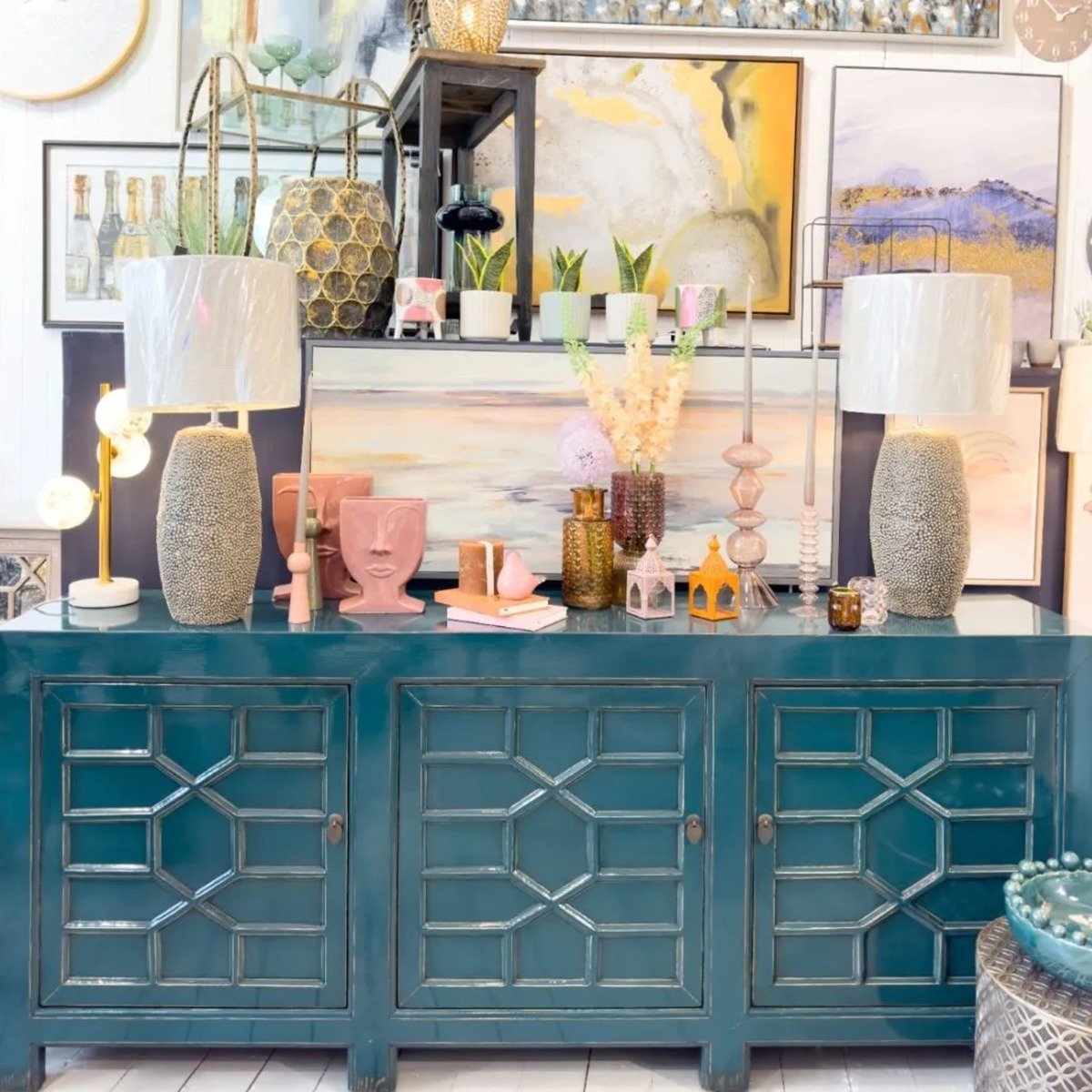 If you are a fan of neutral tones, our White Mango Wood & Gold Dimpled Sideboard is the perfect addition to your interiors. Adorned with luxe gold accents paired with a white wash mango wood exterior with an eye-catching dimpled pattern, this luxury sideboard is a great choice for those prefer to add colour through accessories in their home.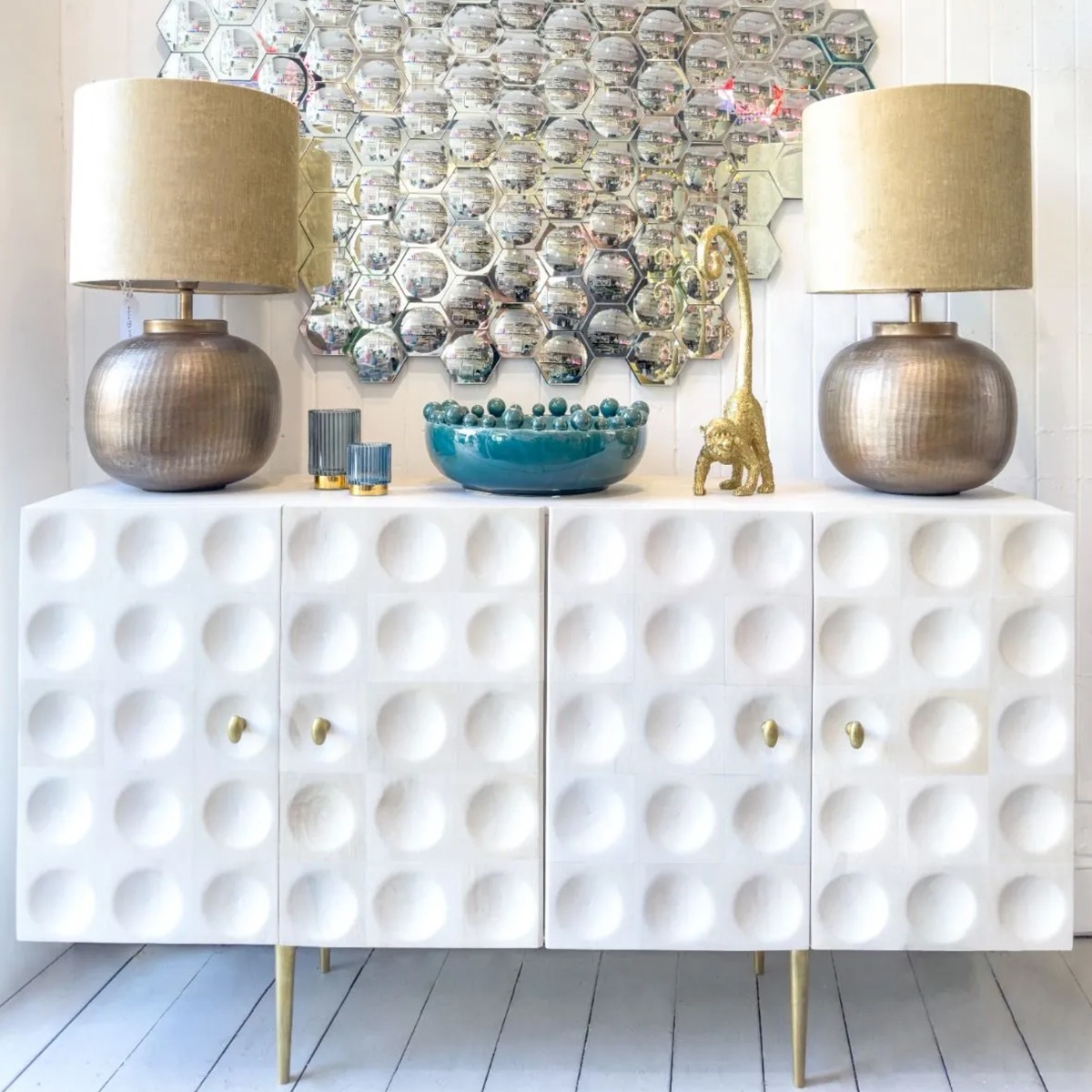 Leave your guests in awe of our Light Up Slatted Sideboard. This luxury wood sideboard features a sleek slatted design in a dark wood finish, offering a contemporary look that is both chic and timeless. What really sets this sideboard apart is its unique lighting, with LED lights embedded in the slats creating a swirling illuminated pattern that creates a focal point in any space.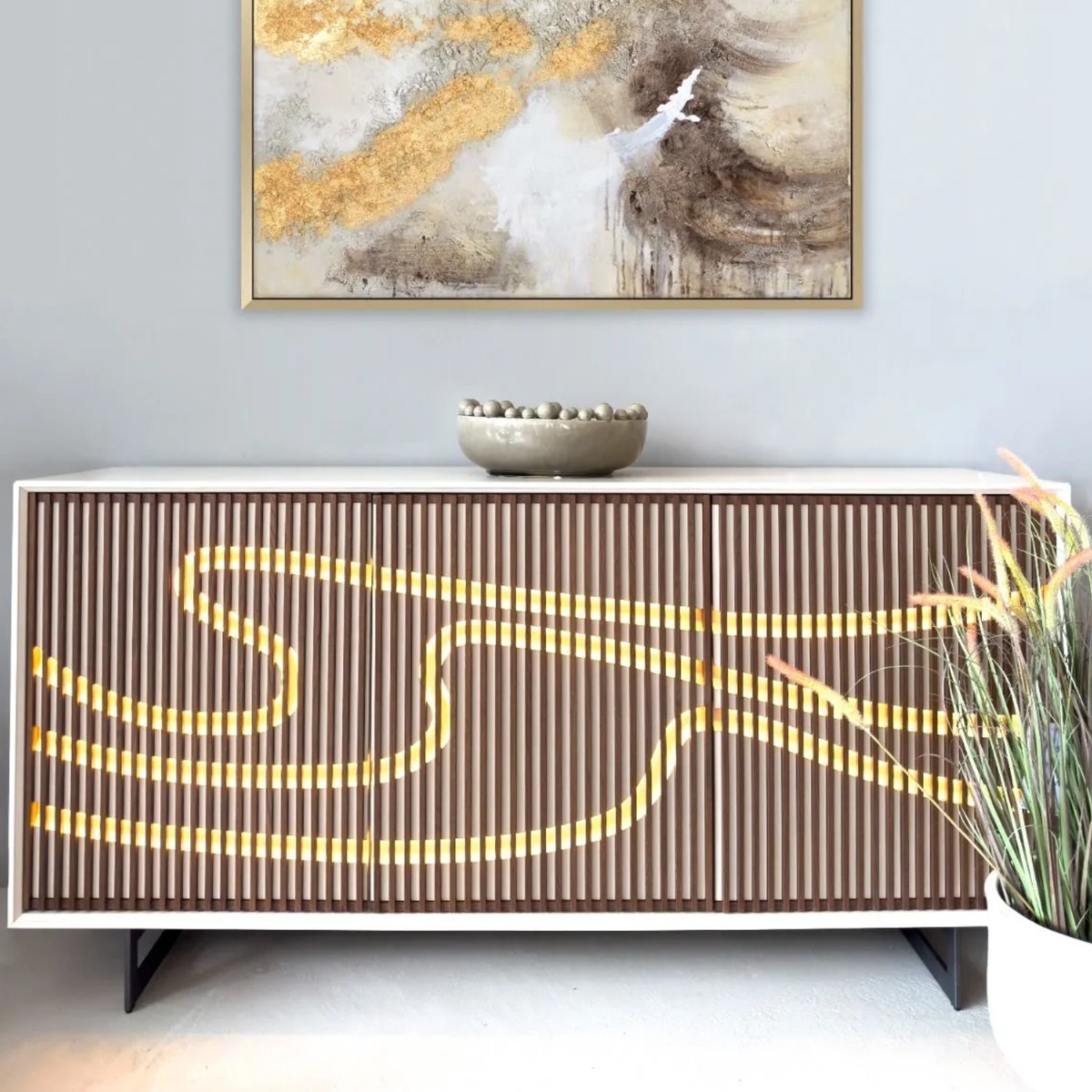 To add vibrant colour in your home, discover our Distressed Yellow Pine 7 Drawer Sideboard. This eye-catching yellow sideboard is a striking piece that will bring any room to life with its uplifting yellow finish. This wood and metal sideboard combines style and practicality with the 7 drawer design, ensuring you have plenty of storage space. This brightly coloured sideboard is extremely versatile and can be styled in many ways to complement your interiors.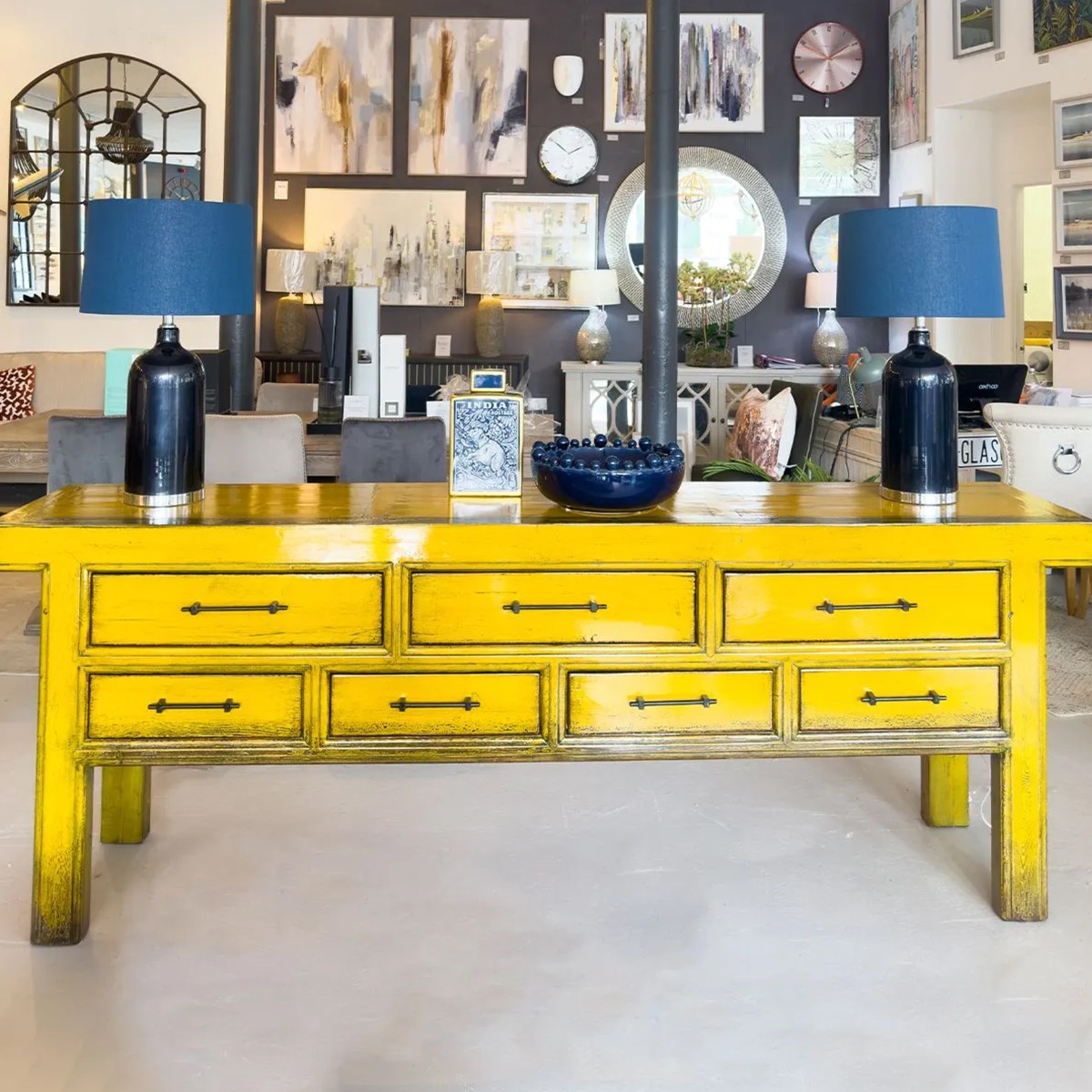 Styling Your Sideboard 
 Styling your sideboard is essential to elevate the look and create a stylish display that complements your interiors.
Here are a few of our favourite ways to create an impactful display that adds colour to your home!
Colour Blocking – Grouping similarly coloured items on your sideboard creates a stylish look without being over-complicated. We have paired our Distressed Yellow Pine 7 Drawer Sideboard with a Tall Mustard Ceramic Vase which complements the sideboard well, alongside a luxury reed diffuser in a matching yellow tone and a neutral fashion book and Distressed Metallic Grey Vase to complete the look.
Monochrome Chic – Black and white accessories complement any interior style and can be tailored to create a bold and eye-catching display. We styled our Distressed Yellow Pine 7 Drawer Sideboard with chic zebra print ceramic lidded jars to create a statement look that adds the wow-factor to the space! Paired with a black luxury reed diffuser, this look oozes sophistication and style!
Clashing Colours – Clashing colours can be daunting when creating a stylish look in your home, but we've taken the hard work out of it for you! For our final look, we've paired our Distressed Yellow Pine 7 Drawer Sideboard with clashing blue toned ceramic accessories and a pair of decorative Navy Glossy Bottle Table Lamps to create a visually-exciting and eye-catching display!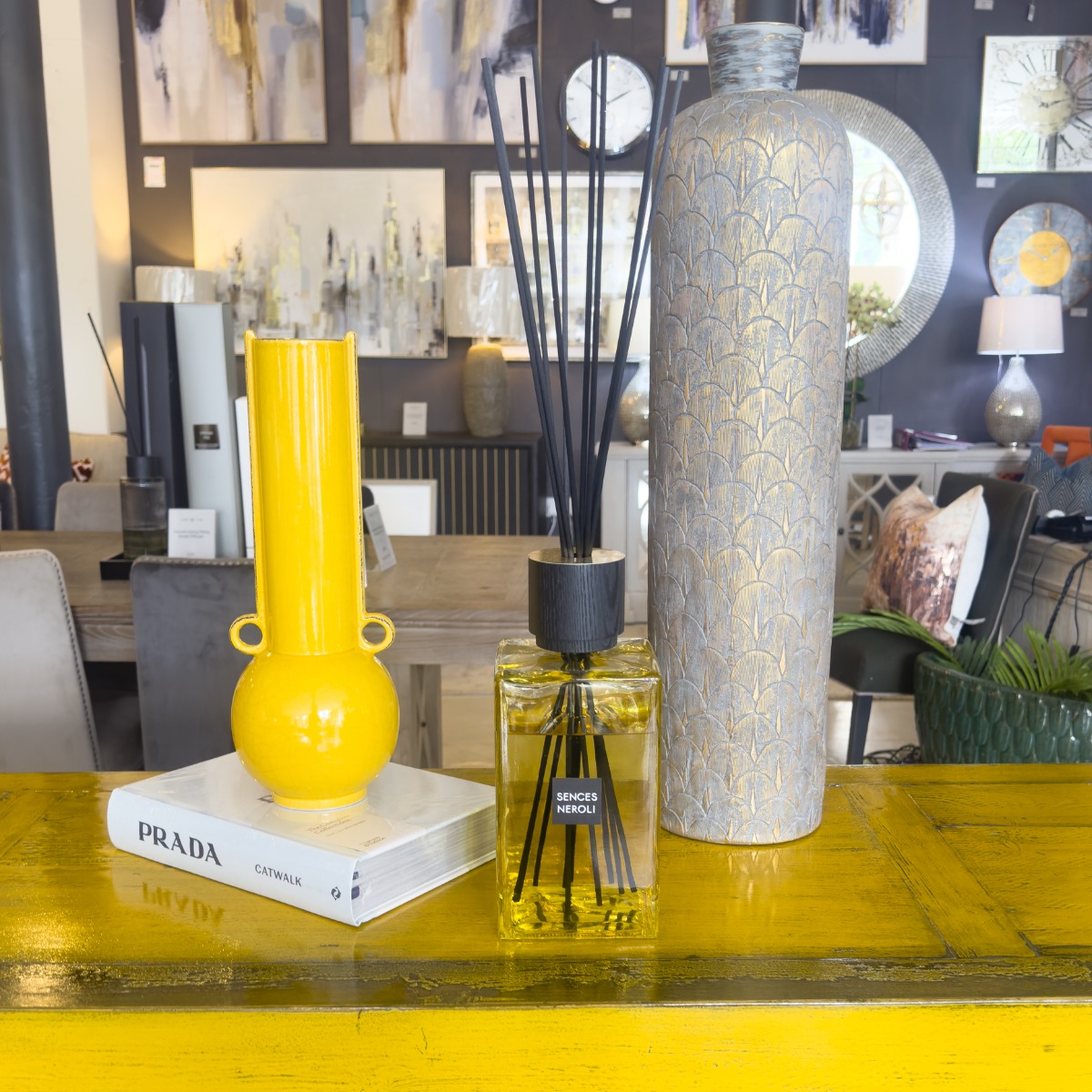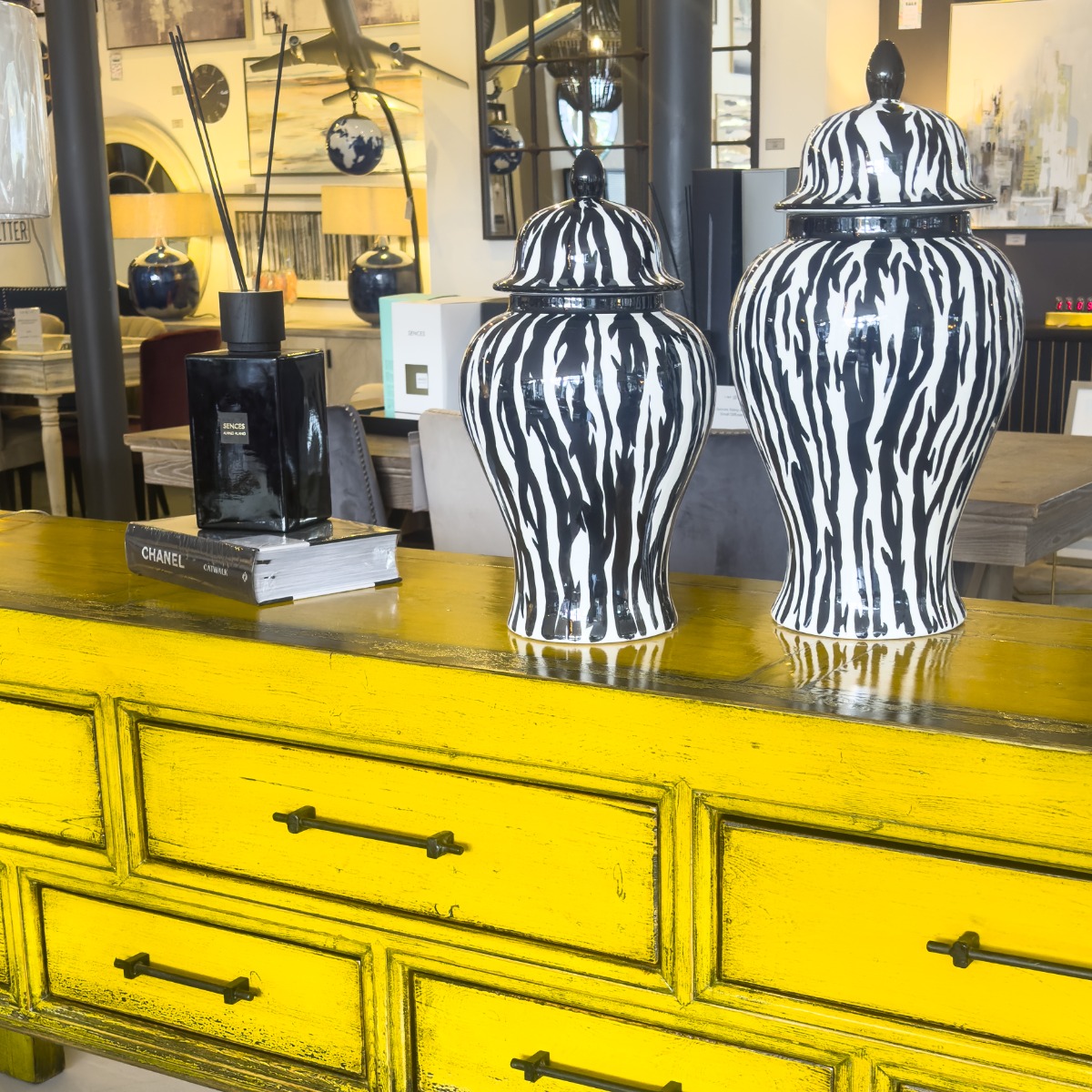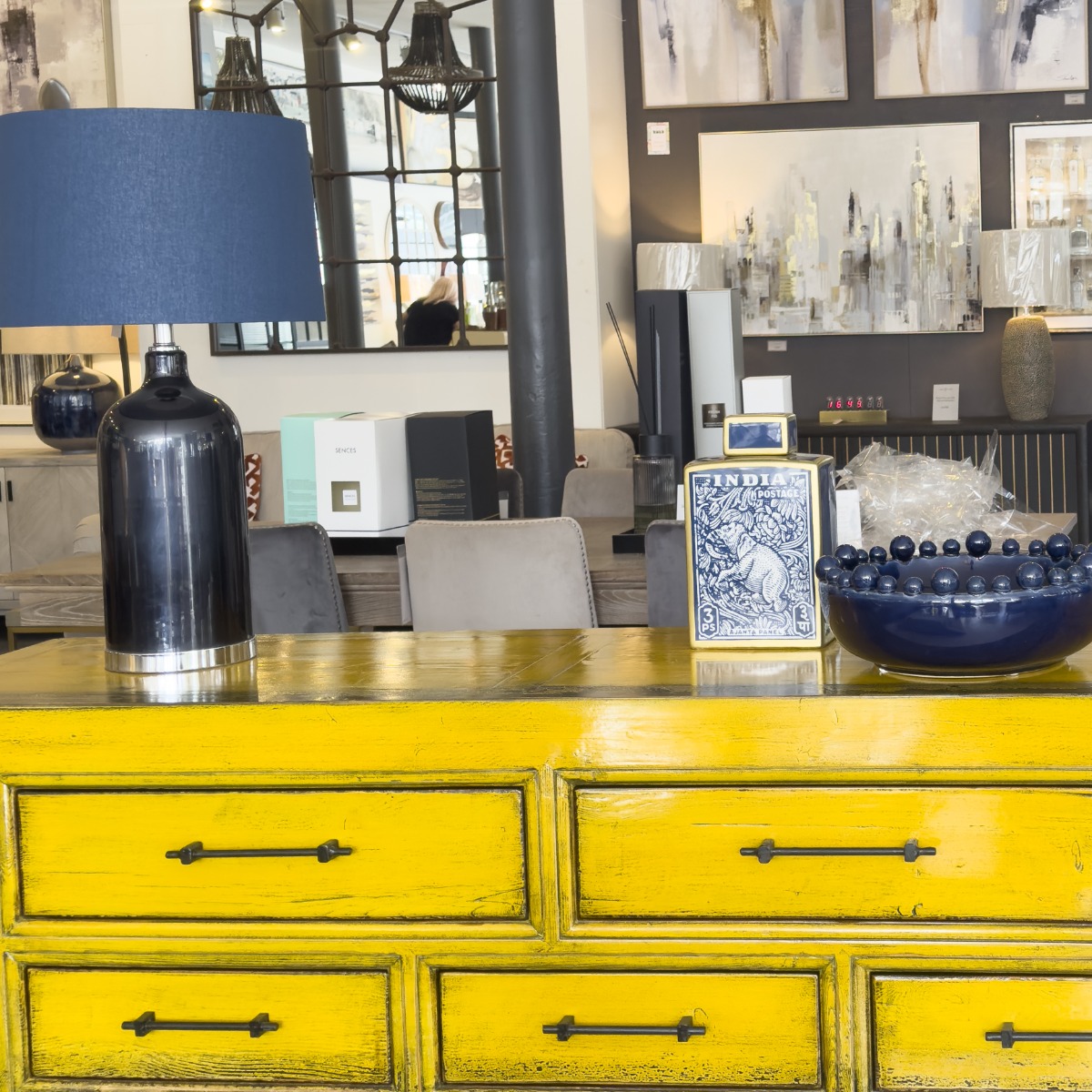 We hope our guide to finding the perfect colourful furniture has inspired you to create your own colourful display in your home! For more interiors inspiration, check out our Instagram @timeandtidestores or visit our designated furniture store located at 6 St. Georges Place in the heart of Glasgow to shop our full furniture range!