Dressing a 10/10 Console Table Display
Dressing a console table can be described as an art; a way to express your true inner creativity. One of our favourite ways to introduce the latest trends to your home is by creating a 'capsule theme' area, complete with on-trend décor and textiles displayed around a focal point. Here at Time & Tide, we have a stunning range of console tables which draw the eye and create a stunning focal point in your hallway, living room or favourite interior space. You can browse our full console range online -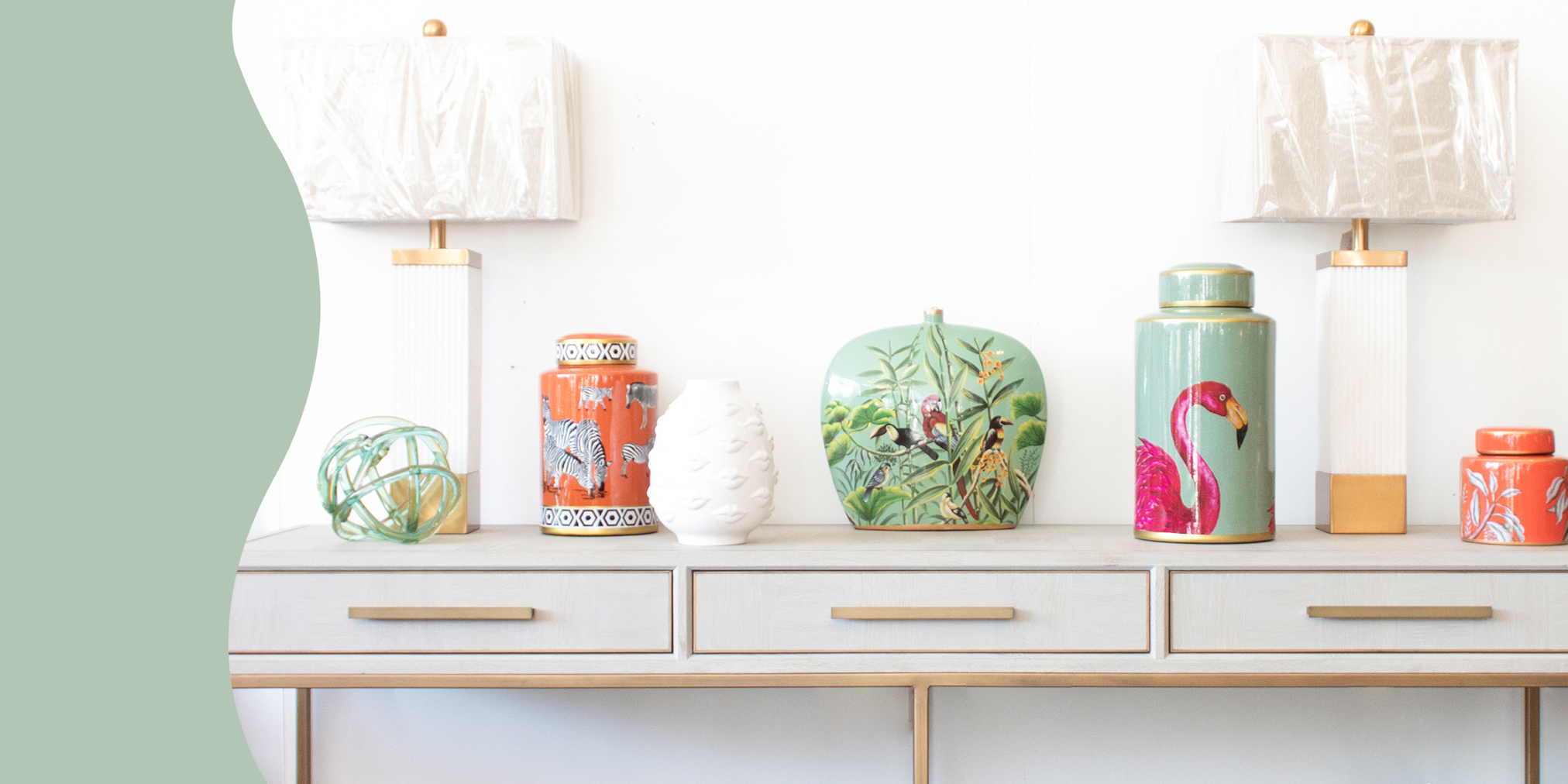 A question we are often asked is 'how to dress a console table'. Our view on console table dressing is that it comes from within, and a perfectly curated console table should reflect your personality and preferred interior style. Having a console table in your hallway goes way beyond the purpose of functionality, allowing you to make it visually exciting and elevate the whole look of your space. We have pulled together some tips below to help you on your way in designing your ideal display!
Colour Palette
Whether you are a lover of: pared-back neutrals, energetic brights or a combination of both, there are endless opportunities to create balance and harmony in your display.
If you have a predominantly neutral room, introducing a pop of colour in your tabletop décor will bring new energy to your console table. Pick a colour that brings you joy, for example green, and introduce a statement green ceramic vase alongside other white or neutral sculptures and objects. If you are feeling bold, incorporate a few more complementary colours (such as green, pink and blue) to bring life and a modern look to your hallway.

Or, if you have a room already full of colour (such as colourful occasional chairs, accessories or walls) adding gold or silver accessories to your hallway table will create a glamourous statement and co-ordinate perfectly with your existing palette.
Below you will see a snippet of a capsule theme look we pulled together for Instagram. This is an example of how to use gold accessories (with a touch of pink) in a room where colour is dominant. On a side note how gorgeous is the white feather lamp?! It's available to purchase here.
.     
Watch the full reel on Instagram by clicking here
Dressing the Wall Behind Your Console
When creating a visually captivating display, it's important to put as much thought into the wall behind your console table as the tabletop arrangement itself. Here are a few of our favourite options to make the area above your hallway table shine!
Hang a simple circular narrow framed mirror, or a statement windowpane mirror above your console to give the illusion of a more open space, and to reflect light beautifully around your room. To perfectly hang your mirror, it is best to place your mirror at eye level, which will depend on the height of your table. We recommend leaving an absolute minimum of six inches between the top of your console, and the bottom edge of the mirror

Alternatively, hang an oversized abstract painting above your hallway table to bring a 'gallery' look to your space. Choosing the perfect wall art is easy when shopping at Time & Tide, we have a wide range of beautiful artwork, allowing you to choose a picture to co-ordinate with the colour scheme of your tabletop decor. Check out our full range of pictures here.
We have included some examples of introducing both stunning wall art and mirrors to co-ordinate with your space. On the left hand side, our bestselling Wood & Metal Console is paired with a showstopping black grid mirror, a stylish choice for those who have a narrow space and need a hallway table with storage & drawers.
Thank you for reading, and we hope we have helped you on your way to designing your dream console look!